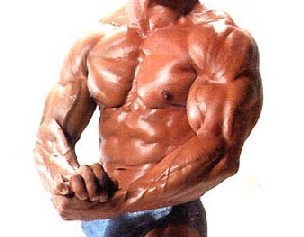 Home of Real Hardcore Natural Bodybuilding
FREE Natural Bodybuilding ebook
Learn The Secrets To Building
Massive Muscles Without Steroids!
Enter your first name and a valid email address
for free instant access to the muscle muscle gain ebook.

Natural Bodybuilding
Nutritional Supplements
Thank you for checking out our Natural bodybuilding supplements. We feel these are the top natural bodybuilding supplements anywhere. You can purchase any of these sports supplements by clicking on them. Feel free to e-mail us if you have any questions. Andro-Shock - May be the most potent legal testosterone support stack sold as a safe alternative to steroids with 10 dietary supplement ingredients that are believed to help boost your body's own natural testosterone levels. The total benefits of the Andro-Shock supplement are synergistic, meaning when certain supplements are combined, their overall net effects may be enhanced. Each serving contains: 100 mg. Tongkat Ali (Long Jack), 100 mg. DHEA, 30 mg. Zinc Sulphate, 200 mg. Saw Palmetto, 150 mg. Chrysin, 350 mg. Tribulus Terrestris, 100 mg Avena Sativa, 250 mg. Muira Puma, 300 mg. Nettle Extract and 30mg. Betasistosterol. 90 Capsules Only $69.95 Plus $6.00 S&H


HGH Advance - An all-natural spray supplement that stimulates your body to increase its production of HGH. The most up-to-date methods of bio-technology are used to create HGH Advance. The end product is a proprietary blend preparation of L-arginine HCl, L-ornithine, glycine with added colostrum made by a FDA approved manufacturer using GMP standards according to the homeopathic pharmacopoeia. One of the remarkable features of HGH Advance is that its effectively absorbed if simply sprayed under the tongue. Only 49.95 a bottle plus $6.00 S & H


Pumped Extreme Kre-Alkalyn Complex - Creatine formula which is 100% stable and will not break down into Creatinine. This allows the Creatine to be absorbed more efficiently into the bloodstream. Allows an athlete to take far less product while experiencing even more explosive results. Each serving contains: Kre-Alkalyn 1400mg, L-Taurine 600mg, Alpha Lipoic Acid 50mg and Vanadyl Sulfate 20mg. 90 Capsules Only $39.95 plus $6.00 S&H


Herbal Fat Melter - Turn your body into a fat burning furnace. Bodybuilders, fitness competitors, and other "Ex-Ephedrine users" demand more than the average "ephedrine-free" thermogenics have to offer. They need something that they can feel and with our product you will feel and see the fat melt away! Each Capsule Contains: 675 mgs of a proprietary blend of Green tea extract,( epigallocatechin, caffeine, and polyphemols. Bitter Orange peel extract, (n-methyltyramine, hordenine, octopamine, and tyramine) Yerba mate extract, ( caffeine and methylxanthines) Citrus aurantium fruit extract, ( synephrine, and tyramine) Black pepper, Tyrosine, Aspartyl-phenylalanine, DMAE, Vitamin C, Chromium, amino acid chelate. 120 Capsules Only $29.95 plus $6.00 S&H

Free Natural Bodybuilding Fitness Magazine
Dedicated to the hardcore natural bodybuilder. We take an in-depth look at nutrition and exercise routines. Our natural bodybuilding tips will help keep you motivated. Motivation and Discipline is the key to all success!
Also when you sign up for our free magazine, you will be automatically entered in my monthly drawing to win free natural bodybuilding supplements and other great prizes.
Click Here To Subscribe To
Free Natural Bodybuilding Magazine
© 1998-2017 RealBodybuilding.com